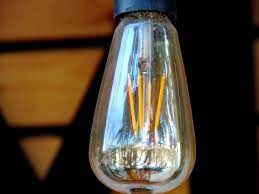 Squirrel cage bulbs offer exceptional brightness. They are long-lasting and come with instantaneous illumination. These innovative lighting fixtures are designed to function in virtually any setting. Whether it is a school, hospital, or any other commercial setting, these are the lighting fixtures you need to uplift your space. For optional results, it's important to choose the right squirrel cage bulbs. The following are the top styles of squirrel cage bulbs you will find in the market.
Introduction
Squirrel Cage LED Bulbs look like the classic Edison light bulb. They come with superior energy efficiency and durability. These bubs are designed using advanced LED technology which ensures that most of the energy is converted to lighting.  Learn about the top types of Squirrel Cage LED Bulbs.
Standard Bulbs
One of the most common types of these bulbs is the standard Squirrel Cage LED Bulb. These bulbs are designed with glasses with visible LED Filaments. The filaments are either arranged in a spiral design or zigzag. That's why you will notice that the arrangement resembles that of the traditional incandescent light bulb filament.
Teardrop Bulbs
The teardrop Squirrel Cage LED Bulb comes with a unique design. It features an elongated teardrop-based shape that makes the design unique. Like the stranded bulb, this bulb comes with a spiral or zigzag pattern-like shape, which creates a welcoming glow. These bulbs are ideal for commercial spaces. This is because they create that welcoming fee.
Globe Bulbs
The Squirrel Cage LED Bulbs are special lighting options that come with spherical glass shapes featuring visible LED filaments. The filaments come in a zigzag or spiral pattern. These bulbs are designed to create a cozy atmosphere, which explains why they are ideal for entertainment joints.
Diamond Bulbs
These Squirrel Cage LED Bulbs are equipped with diamond-shaped glass bulbs. They also have a visible LED-based filament. In most cases, the filaments can be either spiral or zigzag patterns. Uniquely designed, these bulbs can be used to add that decorative touch to your existing lighting fixtures.
Tubular Bulbs
The Squirrel Cage LED Bulbs, which come in tubular shapes, feature visible LED filaments. Like the other types of Squirrel Cage LED Bulbs, the filaments can be arranged either in a zigzag or spiral arrangement. According to lighting experts, these lighting solutions are ideal for use with pendant lights and chandeliers. You can also use these bulbs with decorative fixtures.
Key Takeaway
The Squirrel Cage LED Bulbs are innovative lifting fixtures for any home or office. The best thing is that the lighting fixtures are versatile and highly reliable. Depending on your needs, you can choose a bulb that suits your needs. You can use them for decorative purposes which makes them ideal for commercial spaces.
The Bottom-Line
Installing 'squirrel cage bulbs can instantly uplift any space. Whether it is office or home, the squirrel cage bulbs will make your spaces better. They have exceptional l versatility and brightness. They come with instant illumination. Choose the best squirrel cage bulbs for your space. Compare the above styles when choosing squirrel cage bulbs for your spaces.