LED lighting fixtures are quickly becoming a solution for many homes, establishments, and commercial spaces. Highly effective, LED lights are brighter than traditional incandescent lighting fixtures. They are long-lasting and can be optimized to fit any space. These lighting solutions are versatile, making them the best option when it comes to light commercial spaces. Here is all you need to know regarding commercial LED lighting.
Types
There are different types of commercial LED lighting. This gives you a lot of options. Whether you are lighting a conference room or an office, you will surely get an option that suits your needs. Understanding different types of LED lighting will help you make the right decision. The following are the top types of LED lighting for commercial settings.
Task Lights
You can use task lighting to illuminate workspace areas like sinks, counters, as well as tabletops. Task lighting should be bright enough to illuminate these spaces. It should also be shadowless. You can also mount the lights under the cupboards.
Desk Lamps
Desk lamps provide offices with much-needed accessibility. Desk lamps can be moved, controlled, and configured to suit your office needs. Desk lamps are also energy efficient, which makes them ideal for most offices. You can adjust the light to your preferred brightness, offering you the comfort you need to undertake office duties without any difficulties.
Track Lighting
If you are planning to light up smaller rooms, then invest in track lighting. These lighting fixtures are available in different designs. Modern models allow you to connect them at junctions, which enables you to achieve a longer track.
If you want soft lighting, track lighting enables you to combine different colored bulbs. With these lighting options, you can easily achieve different projections as well as customized color coordination.
Recessed Troffer Lighting
Recessed troffer lightings are great lighting fixture for outdoor lighting. These lighting fixtures can be installed within a ceiling's grid. Troffer lighting fixtures come in different sizes. However, the 4-feet long troffers are the most common ones you will find on the market today. These lighting options are ideal for lighting commercial spaces, industrial, as well as warehouses.
Warehouse Lighting
Warehouses require sufficient lighting. LED warehouse lighting offers excellent illumination capabilities. They can light large spaces. This minimizes confusion in these spaces, optimizing the safety of warehouse workers. Installing LED warehouse lights will reduce accidents, improve efficiency, and optimize the aesthetics of your warehouse.
These lighting options can help you achieve smooth operations when carrying out operations such as packaging goods, sorting items, and shipping consignments.
Choosing The Best LED Lights For Commercial Spaces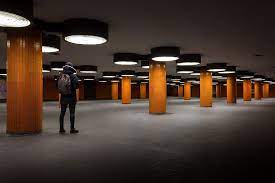 Choose the right commercial lighting for your commercial space. Use the following quick guidelines to select the best lighting fixtures:
Color temperature
Color rendition
Color brightness
The Bottom-Line
Commercial spaces use a lot of energy, especially for lighting. That's why you need an innovative lighting solution that will save you energy. Luckily, LED lighting comes with high energy efficiency. According to experts, LED lighting can save you up to 80 percent of energy. Still more, these lighting solutions can be customized to fit your lighting needs. The above guide will help you understand LED lighting.