The IP ratings (an abbreviation for International Protection ratings) is a two-numbered representation for protection against solids and water. The first digit represents the protection rating against certain solid foreign objects (such as dust) while the second digit is the actual protection against water.
Understanding IP rating for lights
The IP rating (Ingress Protection) is an internationally recognized method utilized to describe and measure the level of protection of electrical appliances against water and other technical components. It's always advisable to choose the right IP rating for your exterior lights plus ceiling fans so as to prevent hazardous accidents.
For enclosures, the emblematic "waterproof" IP ratings include IP67, IP66 & IP65 enclosures.  The table below explains the meaning of each of these ratings and how they're arrived at.
| | | | |
| --- | --- | --- | --- |
| IP Rating | The actual Protection offered | Description of the offered protection | Test Method |
| IP65 Enclosures | These ones can protect against any water jets | Water entry is projected by a nozzle (which is 6.3 mm long) against enclosures from all directions and must not have any harmful effect. | Test duration: The test takes about 15 minutesWater volume: It requires about 12.5 liters of water per minutePressure: The test requires a pressure of 30 kPa at a 3m-distance |
| IP66 Enclosures | This one can offer protection against water jets | Water is projected in dominant jets (i.e. a 12.5 mmNozzle) against enclosures from all directions and shouldn't have any harmful effects. | Test duration: It requires about 3 minutesWater volume: The test requires 100 liters of water per minutePressure: The test must be done at a pressure of 100 kPa and at a 3m |
| IP67 Enclosures | These ratings can protect against an Immersion of up to 1 m | It protects entrance of large volume water and when the enclosure in question is immersed in water(but under pre-defined under pre-defined pressure and time conditions) | Test duration is 30 minutes The immersion should be at a depth of more than 1 m measured from the  bottom of the device and more than 15 cm measured from the top of the device |
IK Rating: What is it?
IK ratings denote the European standard EN — the equivalent of IEC 62262 (2002) standards. This represents an international numeric classification concerning degrees of protection by enclosures for all electrical appliances against external mechanical forces/impacts.
IP rating in electrical appliances
The IP Code is an International Protection Marking that interprets the IP code as an Ingress Protection Marking. It also classifies & rates it as the level protection against intrusion, dust, unintentional contact, as well as water.
IP ratings brief history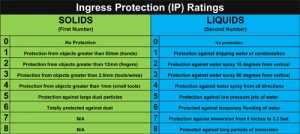 IP ratings were first developed by the International Electro-technical Commission. They are mostly used in Europe & Asia, but find some adherents in parts of North America.  Since they're international standards, testing and certification is done by the TUV and not UL.  Note: IP ratings were developed to address harsh environments and not ultraviolet rays (UV) protection. Thus, engineers should incorporate additional materials that offer UV protection.