Cheesman Products LTD Factory
Cheesman Product LTD
Cheesman Products LTD is a company which manufactures high quality stainless steel exhaust systems and tube bending. With over 40 years of experience and customer service, Cheesman pride themselves on their reputation of quality products and customer service. Cheesman have got a large client base of niche car manufacturers who make the finest automobiles, sports cars, buses, coaches, commercial trucks and military vehicles. It just so happened that they were expanding and had recently purchased a new factory which was in need of being lit.
Lighting in factories is essential because it can be such a big work space and there are a variety of different jobs that are likely to be performed in a factory. This was certainly the case in the Cheesman factory as different areas were going to the designated for different jobs. We received a diagram which would indicate all the areas which needed the most light which is seen pictured above; this was essential because it helped us decipher where would be best to place the lights and what areas would need the most light.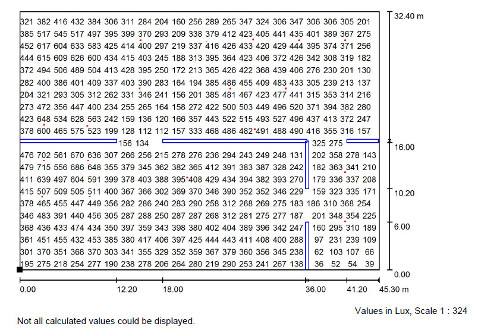 There was also another diagram which became invaluable which is seen to the left; it is similar to the previous diagram, except that this one is more specific with Lux levels. It is looking down on the factory from above and gives us an idea of the levels of Lux light that would be needed. Due to the fact that there were numbers and levels specified, it made planning the factory lighting that much more specific.
It wasn't just the lighting that we did for this new factory however, we did all of the electrics; it was an empty shell when we started! We installed the distribution board (seen pictured), we did the containment, machine electrics and the lights. This was lights in the office as well as the factory; in the office we installed LED panels, emergency lights and COB down lighters.
We chose to use LED High Bay lights in the factory which were 200W and cool white in colour. Cool white is the whitest and brightest variation of white and so would be best in a factory to optimise light. The factory itself has a lot of sky lights on the ceiling which provides natural light, so during daylight the high bays might only be needed to work alongside the natural light or be used in specific areas. Based on the simulations, we then arranged to install the high bays but in the places where more light was needed, we installed the lights closer together to ensure there was the correct lux levels. In total we installed 43 bay lights.
We loved being able to completely transform this factory from being an empty shell to being fully functional, having lights and electrics. After the install was done, we actually went back and tested the Lux levels and they were 20% higher than what the simulation said was needed!